Category:
Main Dishes

(Page 27 of 29)

October 17th, 2009 in Main Dishes, Pork by Julia Volhina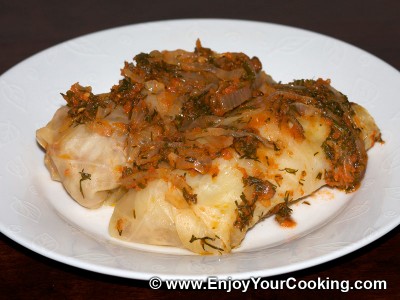 Cabbage rolls (stuffed cabbage) dish is very popular food in Eastern Europe. No wander you can easily find cabbage rolls among traditional recipes in cuisines of Russia, Ukraine, Poland, Romania and many others countries.
Making of cabbage rolls from the scratch (including grinding meat, boiling and separating cabbage and then preparing them one by one) would take some time, so it is better if you start cooking in advance. However you can leave prepared cabbage rolls in the oven with heat turned off for up to 1 hour, so they stay warm if you want to postpone serving.
This recipe describes step-by-step process of preparing cabbage rolls in tomato-dill sauce. Enjoy the taste of traditional dish of Eastern European.