Tag:
bell pepper

(Page 3 of 4)

December 18th, 2010 in Hot Soups, Soups by Julia Volhina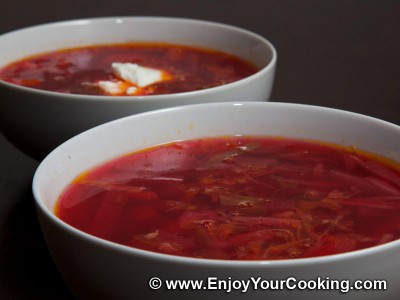 One of the challenges when cooking classic beet root soup, borscht, is to get all vegetables (and there are quite few) cooked till perfect readiness at the same time.
Considering different vegetables require different cooking time it is sometimes hard to achieve. For borscht you need to make sure beens are soft, while potatoes are not over cooked and beets don't lose their color.
So, to make this happen: I cook beens in a separate cooking pot (just until they are soft and ready), cook beets skin on (like for salad) in separate pot in advance, and add these two to the main cooking pot at appropriate times.
By the way, using of canned beets and beens instead of cooking them yourself is an option (which I never did, but it may safe you some time).