Tag:
tomato

(Page 8 of 9)

July 17th, 2010 in Beef, Main Dishes, Pasta by Julia Volhina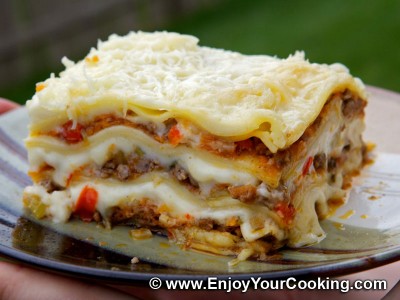 Several weekends ago, when I asked Yuriy what should we prepare for dinner, I got an answer – lasagna, and I was intimidated a bit – I never prepared lasagna before. So I spent some time in internet researching recipes and found several I liked. I've combined them, added some touch to my taste and prepared this lasagna.
This was my first attempt to make lasagna. And main challenge for me was to properly prepare noodles: according to the instructions on the pack they required boiling before using. I've added 2 tablespoons of oil to the boiling water and was boiling them layer by layer and it totally helped to prevent noodles from sticking while boiling.
This lasagna turned out perfectly: balanced combination of meat and vegetables (just how I like it), noodles were very tender, it was totally worth all the time I've spend boiling them, getting out of water and trying arrange them in the pan.