Recent Posts: Page 33 of 53
July 23rd, 2011 in Main Dishes, Pork by Julia Volhina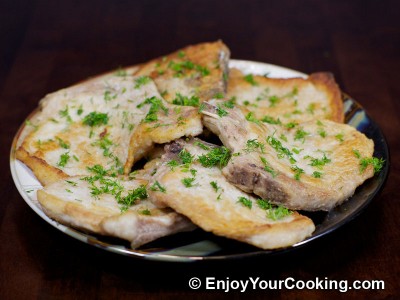 This is probably the easiest way to cook pork chops – simply beat them up, dust with flour and fry until ready. Actually you can fry any kind of pork meat like this: pork loin slices, pork chops, cutlets, shoulder parts, etc.
For thicker meat cut increase cooking time: it is important to cook pork thoroughly, when cut with a knife it should produce clear juices, especially near the bone.
Lemon juice gives pork meat a nice sour kick in taste; garnishing with chopped greens looks pretty, but is absolutely optional.