Tag:
dill

(Page 8 of 10)

October 30th, 2009 in Fish, Main Dishes by Julia Volhina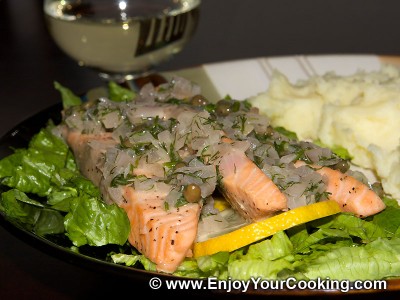 Capers and dill, butter, wine and shallots – those are ingredients of very good sauce for fish. Personally I pick salmon, because it is especially good when boiled or even simmered like in this recipe. However I think it will work with other kind of fish without any problem.
Should I also remind you what fish is an important part of the healthy diet?
Got a romantic dinner coming up and want to surprise your date with something special? I recommend this tender salmon dish, especially if after preparing of it you still have a few sips of Chardonnay left to accompany it with.